EXCLUSIVE TOUR TO BEGIN JULY 15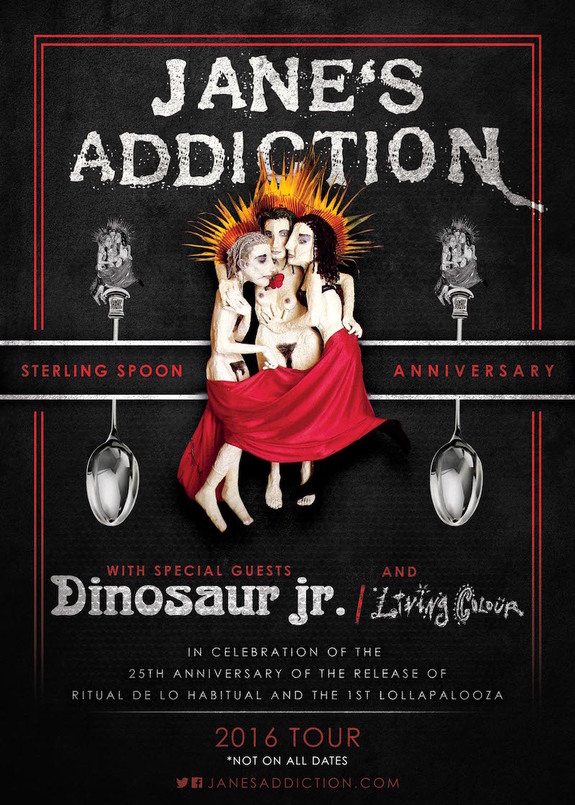 Legendary alternative rock pioneers Jane's Addiction will commemorate the 25th Anniversary of their critically acclaimed album Ritual de lo Habitual with the Sterling Spoon Anniversary Tour, featuring Dinosaur Jr. and Living Colour on select dates. These concerts, which also serve as a tribute to the early years of Lollapalooza, will be part of an exclusive run leading up to Jane's main stage performance at Lollapalooza's 25th Anniversary on July 30 in Chicago. The tour will kick off on July 15 in Brooklyn, NY as part of the opening of the new Coney Island Amphitheatre.

The Sterling Spoon Anniversary Tour also brings together three legendary guitar greats from the grunge era – Dave Navarro, J Mascis of Dinosaur Jr. and Vernon Reid of Living Colour.

The songs on Ritual de lo Habitual fully embrace Jane's Addiction's psychedelic and progressive side. Tracks like "Three Days" and "Then She Did…" exceed the eight-minute mark, becoming elegant aural tapestries with mystique a la Led Zeppelin. The album reached 3x-platinum in the U.S. with two #1 singles including "Stop!" and "Been Caught Stealing," the latter of which was nominated for a Grammy award for Best Rock Performance. For this tour, Jane's Addiction will perform songs spanning their entire catalog, with a special nod to Ritual de lo Habitual within each show's set list.

Tickets go on sale at 10am local time on Friday, April 15 through Ticketmaster.

STERLING SPOON ANNIVERSARY TOUR:

7/15/2016 - Coney Island, NY @ Coney Island Amphitheater*
7/16/2016 - Asbury Park, NJ @ Stone Pony Summer Stage*
7/19/2016 - Boston, MA @ Blue Hills Bank Pavilion**
7/20/2016 - Philadelphia, PA @ The Fillmore**
7/22/2016 - Sterling Heights, MI @ Freedom Hill Amphitheatre**
7/23/2016 - Cleveland, OH @ Jacobs Pavilion at Nautica**

Dinosaur Jr. only*
Dinosaur Jr. and Living Colour**

Dinosaur Jr. is now widely recognized as one of the most significant American rock bands of all time; the sound they pioneered in the late-80s having permeated through the past 30 years. Their Lollapalooza debut took place in 1993, followed by another showing at Lolla's first year in Chicago in 2005. Since re-forming the original lineup of J Mascis, Lou Barlow, and Murph in 2005, they've released three contemporary classics in Beyond, Farm, and I Bet on Sky, proof positive that, despite making music together for over 30 years, their best days are still ahead of them.

Living Colour, a 2-time Grammy award winning rock band from New York City, was propelled into the mainstream with their classic hit "Cult of Personality." Led by guitarist Vernon Reid, with Corey Glover (vocals), Will Calhoun (drums) and Doug Wimbish (bass), Living Colour's unique sound and perspective earned them a slot on the inaugural Lollapalooza in 1991. The band will return in the fall of 2016 with a brand new album, titled Shade.